BlueForce Basic Instrument
BlueForce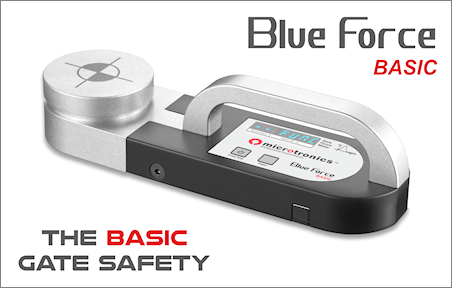 New BlueForce Basic - Instruments for Automatic gates/doors
From the experience of Microtronics in the sector of instrumentation for automatic gates/doors comes the new BlueForce Basic: the simplified impact force tester, with the essential functions to guarantee the conformity of the automation according to the minimum safety targets provided for by law in the UK; see DHF Norms.
The same strength and precision as ever, together with a highly unique design, lie at the base of the success of BlueForce, adopted throughout Europe as a Reference Instrument by the major Notified Bodies and the top manufacturers of automations for power-operated gates and pedestrian doors.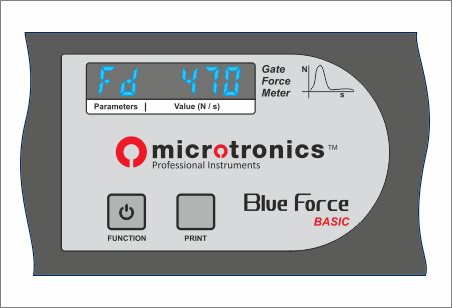 MAIN FEATURES

Realization of one force test at a time, with automatic evaluation of the numeric parameters provided for by the normative and direct visualization on the 6 numbers embedded display:
Fs: average static force after the dynamic peak;

Td: dynamic peak duration;
Automatic warning of the excess of the provided maximum limits for each parameter, according to the requirements of the current regulation.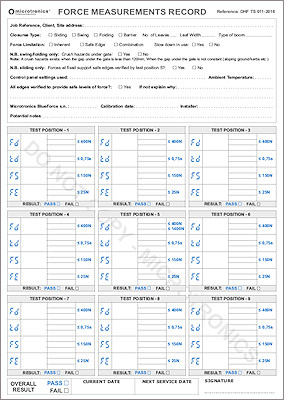 We remind that with the purchase of a BlueForce Basic kit, you will also have a practical PDF file to print that allows the writing down of the measurements taken with extreme simplicity; besides all the measurements points are represented in a graphic reminder valid for all the kind of gates/doors described in the standards DHF TS 011:2018 & DHF TS 012:2018.
Each report is composed by three copying sheets: one for the installer himself, one for the customer, and the third to be attached to the technical file of the gate.
Moreover, in the back of the cover, there is a brief reminder which reassumes the recommendations of the DHF code of practice, for three basic kinds of closures: sliding, swing and barrier.
The gates and their specific measurement points are well represented by means of clear and practical pictures.
TECHNICAL SPECIFICATION DHF UK NORMS
This guide is designed to provide installers with a summary of the key requirements of some of the main standards referred to by the product standard and show how to apply appropriate solutions to meet each requirement. However, with the exception of BS EN 12635, all these standards were designed principally for "type testing" a product in the factory or test laboratory. Also, the standards were developed in the 1990s and the state of the art has developed since then, with new safety devices becoming available.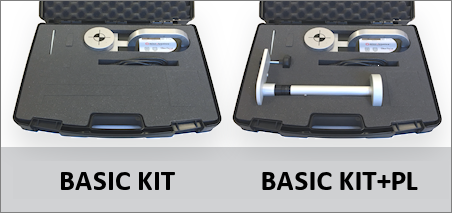 BASIC KIT
BlueForce Basic




Carry-case

Hex wrench for handle




USB cable




Basic Software



BASIC KIT+PL
BlueForce Basic




Carry-case




Straight Extension




Hex wrench for handle




USB cable




Basic Software



Measurement accessories
To do measurements to the EN12453 norm, are needed mechanical supports or extensions. In the accessories chapter there all the accessories for the BlueForce Smart.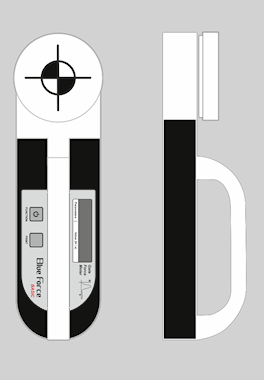 Dimensions and Weight: 280x80x50mm - approx. 1.6 Kg
Power supply: 9V alkaline battery
Memory capacity: one test at a time
Force acq. interval: 6 sec, sampling at 1kHz
Force measurement range: 0-2000N (mechanical stop at approx. 2100N)
Force measurement resolution: 1N
Dynamic time measurement resolution: 0.01s
Maximum force measurement error: the bigger between +/-20N and +/-10% (EN 12445 Par. 5.1.2.)
CE-EMC conformity verified at TUV Rheinland on sample Blueforce instrument s.n. 00981
Compliant with the DHF technical specifications TS-011:2016
In compliance with the BS EN12453:2017
N.B. the instrument has to be connected directly to a PC equipped with the Basic software
Bluetooth interface: v.4.1 (only for connection with the FTP thermal printer)
USB interface: v.2.0 specification compliant